Toy Story 4 is out next week, June 21st, and it somehow manages to live up to the mighty legacy of this franchise.
The film once again stars Tom Hanks as Woody and Tim Allen as Buzz Lightyear, and it features the return of Annie Potts as Bo Peep, as well as the introduction of Tony Hale as Forky. It is directed by Josh Cooley in his feature directorial debut (though he's worked on a number of Pixar films dating back to The Incredibles).
What's the movie about?
When Bonnie makes a new toy (Forky), Woody decides that it's the the gang's responsibility to make sure nothing happens to their new member. But when the family takes a road trip, things go awry, and blah blah blah, TOY STORY IS BACK!

First off, let's acknowledge that even the best film franchises usually have at least one weak link. It doesn't even have to be a "bad" movie, but just one that doesn't live up to the other films in its family.
The Toy Story series is something truly special in that it has no weak links.
Each film in this franchise is incredible in its own way. Each one is unique and has its own memorable moments and its own beautiful message. You never feel like you're watching the same movie over again (like you do with some other Pixar sequels). Toy Story 4 is no exception to this; it carries on the tradition without missing a beat. Everything you love about the series is here: the characters, the performances, the chemistry, the hijinks, and more.
This movie will make you laugh maybe more than any of the other Toy Story flicks. The jokes come at you fast and furiously, and they'll literally have you in tears just from laugher. Everyone's comedic timing is on point, and the humor is genuinely clever, not dumbed down for children.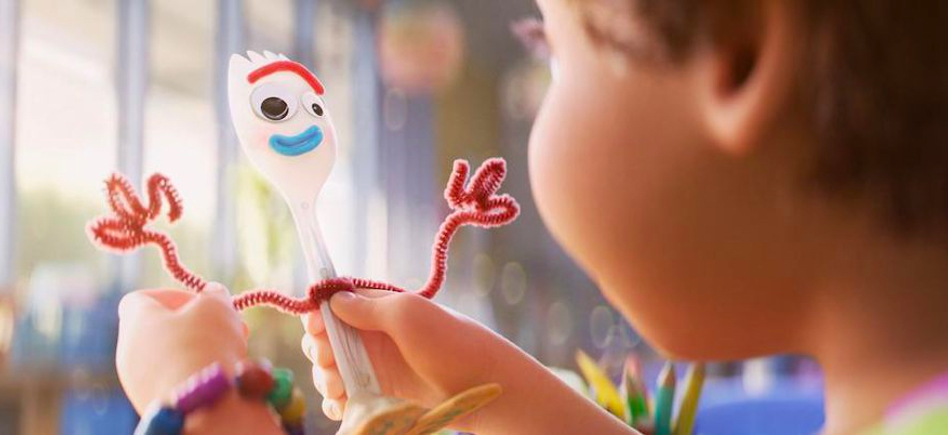 Perhaps the biggest laugh generator in the film is Forky, with a ton of credit to Tony Hale for his incredible voice performance. It's not too far of a stretch to say that every time Forky opens his mouth, he gets a laugh from the audience. The little spork with googly eyes is panicky and full of existential dread, unsure of how or why he's alive, and constantly yearning to return to the trash. Forky is the breakout star of Toy Story 4, and is going to be a lot of fans' new favorite character.
But as funny as the movie is, the filmmakers don't sacrifice the heart and soul that this franchise is known for. The Toy Story movies are deep, thoughtful, beautiful stories about life and growing up. They teach you lessons through a cowboy doll and a space ranger action figure. And just when you thought Toy Story 3 taught you the ultimate lesson – how to accept finality and say goodbye – Toy Story 4 comes along and shows you that these toys have so much more left to teach you.
And you'll cry. Oh, how you'll cry, from the opening scene to the last.
Bo Peep is back, and she is a total badass. She was wasted in the first two films, just there to be Woody's love interest without much to actually do. But in this film, Cooley and the writers finally tap into her full potential and show us what she can do. There's not much else that can be said without spoiling her role in the story, but it just had to be acknowledged that she finally gets her chance to be a main player, and it makes us wonder why it took so long.
As far as the animation goes…do we even need to say it? It's Pixar at its best. The company just gets better and better as it goes on. The animation is fluid and exciting and just gorgeous to look at.
Toy Story 3 seemed like the perfect ending to this franchise. So when Disney/Pixar announced this next installment, fans were understandably hesitant. But have no fear, and cast all those reservations aside, because the perfect trilogy is now a perfect tetralogy.